PALMERSTOWN CAMERA CLUB IS A GROUP OF LOCAL PHOTOGRAPHERS
WHO MEET ON WEDNESDAYS 8-10PM
IN PALMERSTOWN COMMUNITY HALL
TO DEVELOP theiR PHOTOGRAPHIC SKILLS
NEW MEMBERS ARE ALWAYS WELCOME :
AT ALL LEVELS:
NOVICE, INTERMEDIATE AND ADVANCED
Every great photographer started out as a novice,
and our camera club is a very supportive environment to learn and develop your skills.
PCC Image of the month: April 2018: Environmental Portrait: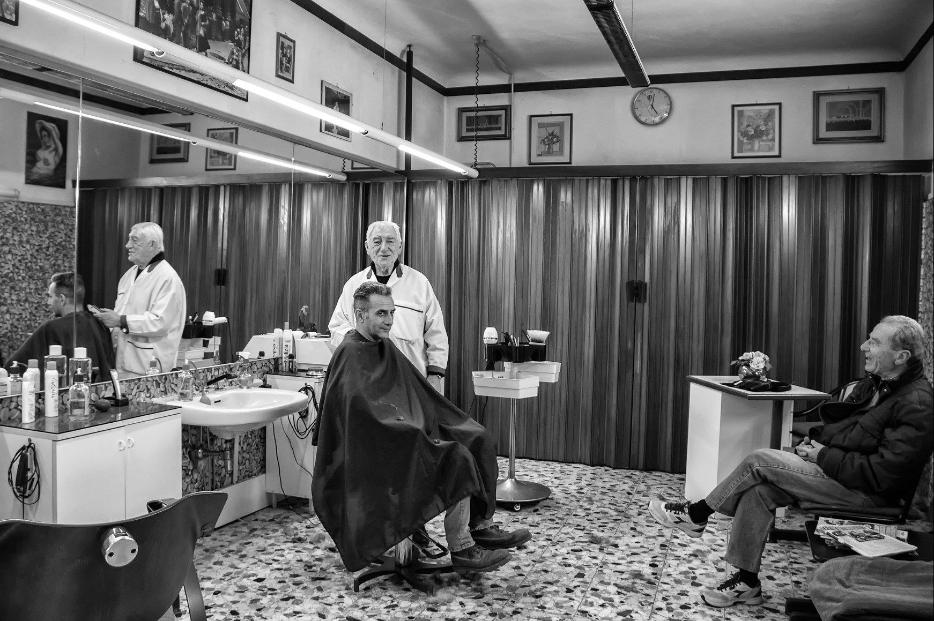 "The Barber" by Patrick Kavanagh
See previous months winners on our 'Club Information' Page
RECENT MEMBERS AWARDS /ACHIEVEMENTS
Dominic Reddin (Irish Photographic Federation President) presenting Lorraine Morris (Palmerstown Camera Club) with her Silver Medal in Print Open Non Advanced at the Photographer of the Year 2018. Congratulations Lorraine!!
See more of our club members achievements on our 'Club Information' Page
Suzanne Mc Mahon won "Best of Show" award from Photographic Society of America!!
Congratulations Suzanne!
Images (from top left): Ger Phelan, Suzanne Mc Mahon, Michael Church, Eddie Kavanagh, Pat Morris, Frank Delaney, Ann Gregg
Support to develop your photographic skills
Weekly club meetings (sept-june) focussing on Photographic genres and topics.
In summer months: weekly photo- outings
Monthly and annual club competitions,
and an annual exhibition, where you can exhibit your images.
The club also enters regional national and international photographic competitions/ salons.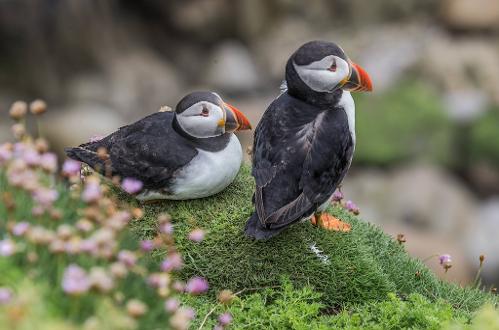 Annual Day Trip to Saltee Island
This years day trip to the beautiful Saltee Island will be on Saturday 9th June. this trip provides a wonderful opportunity to photograph colonies of puffins, gannets, cormorants and others in their natural habitat. When the weather is good, this island is a little slice of heaven for nature photographers.
There are two boats booked for PCC with capacity for just 12 passengers in each boat.
Boat 1 - leaves Kilmore Quay at 9am and returns at 4pm. Fee is €25 pp
Boat 2 - leaves 10am, returns at 7:30pm. Fee is €30 pp
To book your place: contact Angela Dennis or any committee member.Also please note this outing must be paid in full by Wednesday 23rd May to secure your place.
Annual General Meeting
PCC's 2018 AGM will be held on Wednesday 16th May at 8pm in the Parish Hall. All members are very welcome. Any members wishing to put their name forward to become a committee member should complete a nomination form and return it to any committee member before the deadline for nominations which is 2 weeks before the AGM. Please also note that only fully paid up members can vote at the AGM.
Every Wednesday we meet in Palmerstown Parish Hall, with guest speakers and workshops on a broad range of photographic genres and styles, from experts in their field.

Next Wednesday, 16th May, will be our AGM.
See details of our club schedule, on our 'Club Information' Page
WEEKEND PHOTO-TRIP
This year's PCC annual weekend photo trip was to Sligo on 20-22April. This was another great PCC weekend!! Many thanks to Committee member Maria Forster for organising. Some members photos from the weekend away are below: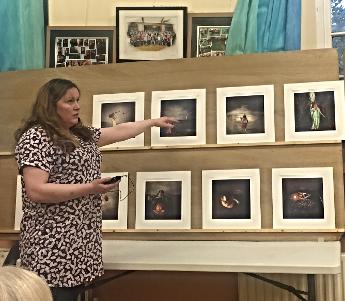 On Wednesday 9th May, Fine Art photographer Julie Corcoran gave an overview of her conceptual art photography: you can see her wonderful creative work at: www.juliecorcoranphotography.ie
On 2nd May we had two guest speakers:Bernard Geraghty showed us some of his stunning landscapes of Ireland and further afield: www.bglandscapetours.ie Ian Carruthers gave a very interesting overview of Astrophotography and extreme weather photography.
Wednesday 25th April was judging night for April's themed competition: "Environmental Portrait". Congratulations to Pat Kavanagh for image of the month, and to each of the winners and runners up in Colour, Mono and Projected Image categories.
18th April was a Q&A night which gave an opportunity for members to ask questions and make suggestions about speakers and themes that would be of interest.
On 11th April model Vonna Nolan gave her professional insight into how photographers can create better portraits, and tips onworking with models.
On Wednesday 4th April: Ellen Mc Dermot presented an overview of her beautiful conceptual fine art portrait photography : you can see more at www.iheep.com
Miriam Power was a finalist in TV3 Camera Club's March competition: Congratulations Miriam!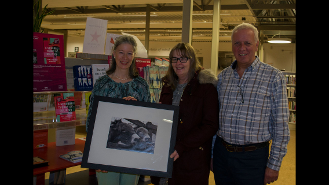 Angela Dennis presenting her "most popular choice" image to the winner, at the annual exhibition in Ballyfermot Library
© Copyright Palmerstown Camera Club